K9: Understanding the paraprofessionalís role regarding communication with students, studentsí families, and the community that supports learning and well-being for student with Other Health Disabilities.
K10: Understanding the paraprofessionalís role within the educational roles and responsibilities of teachers and support personnel in providing educational services to students with OHD.
S4: Demonstrating the understanding to utilize opportunities for students with OHD to participate, interact, and learn with all students.
---
Communicating Effectively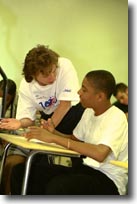 As you learned in Core Competency Area 7: Communication and Collaborative Partnerships, communication is the ability to share information with people and to understand the information and feelings conveyed by others. Communication can take on many forms in addition to speech and written communication, including gestures, facial expressions, signs, and vocalizations (including pitch and tone). Teachers, students, and paraprofessionals frequently use nonverbal methods to communicate. Students often show disinterest in school by avoiding eye contact or sitting back in their chairs with their arms folded across their chests during instruction. Staff members may say that they have time to talk, but they may show disinterest by grading papers or busying themselves while someone is trying to talk to them. Conversely, a smiling, nodding face indicates that the listener is interested in what someone is saying, thus encouraging the conversation. Communication includes a broad range of actions that help the paraprofessional work more effectively with students and teachers.
Effective communication is a key element in creating a productive and enjoyable work environment. Whether you're working with a student, his/her family, or your supervisor, it's important to communicate as openly and clearly as possible. Listening closely to the person with whom you are communicating will prevent misunderstandings. Recognizing and respecting differences and similarities in attitudes, feelings, cultures, and expectations of others will enhance your ability to communicate with the individuals with whom you work and others in your everyday life.
Effective and open communication promotes an awareness of others' interests and needs. Being aware of the skills that encourage open communication is important when working with others. A paraprofessional might communicate regularly with parents and other community members such as representatives from recreation or community centers where students with OHD may participate, members of religious or spiritual organizations in which students with OHD practice or learn, and employers who may have a student with an OHD as a volunteer, intern, or employee.
Communication with parents can be the most essential element to successful educational planning for children with special education needs. As a paraprofessional, you may have frequent contact with the family. For example, if you ride the school bus with students, you may be the first and last school contact of the day with a family. While communication about academic progress, behavior, and educational planning are the responsibility of the teacher, your informal contacts with the family in similar situations are important in maintaining a positive home-school connection.
Paraprofessionals also play an important role in supporting greater involvement of persons with disabilities in educational and other settings. You might teach social and daily-living skills to help an individual with a disability to foster successful integration into the community. You might also be involved in providing transportation for individuals with disabilities to and from various community settings. These services are beneficial to the individual as well as to the community.
---
References
Information for this unit was used with permission from:
Institute on Community Integration. (n.d.). Para eLink Core Competency Area 7.3 and 7.4: Communication and Collaborative Partnerships, Lesson 1. Minneapolis: University of Minnesota. Retrieved June 30, 2006, from http://ici2.umn.edu/elink/7k2b/c7k2b_1.html